How Am I Motivated
---


Written by Dave Gannaway
It's a question that we all ask from time to time, "How am I motivated?" The simple understanding of how you are motivated will give you a very valuable tool to add to your armory. Simple, yet very few are aware of it.

There two basic personal styles used in being motivated. 1) Being drawn towards things that are compelling or 2) By moving away from things or situation you don't like. Sounds pretty obvious but everyone uses both types in varying degrees. The interesting thing is that everyone tends to be dominant in one direction of motivation more than the other. This article will help you observe and discover your principle motivation, and answer the question, "How am I motivated?"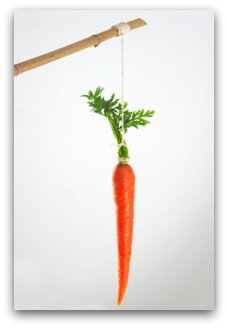 When there are things we must do but don't enjoy, we tend to think, 'I really need to do that today but I don't feel like it?' or 'I need to finish writing this report but I don't really feel up to it.' We procrastinate and avoid things and although you get on and do them, you were motivated by creating scenarios of moving away from. We don't always want to be involved in the process of doing something- we just want it done! Note that the moving away from is not always the bad guy. There are times when it is very positive, such as moving away from danger, pain, or even stressful situations. It is just a different type of motivation.
Moving away from motivators will often not stop for a break until they are uncomfortable and absolutely have to. He will tend to gravitate towards friends that don't bother him and make no demands. It is most likely that he will resist changing his job until he absolutely has to, or gets fired! If he is sick he will resist visiting the doctor's office until the pain becomes intolerable. Those moving away from individuals can often be found in jobs that involve problem solving and dealing with customer's complaints and queries.
The other type of motivation is the exact opposite. From the moment they awaken in the morning they are so fired-up and looking forward to getting on with their day. This personal style is a moving towards motivation. This type of motivation is compelling, exciting, fulfilling and simply makes you feel good. Most of all you want to do it with all your energy and vitality, and that is what makes the difference.
Moving towards people are motivated towards pleasure, rewards and achievements. They can't wait to get out of bed in the morning to get started. They will take a break before getting started on a project so they won't need to stop. They will find friends that are interesting and stimulating. They will always be on the look out for new and bigger projects to become involved with. Always moving towards what they are seeking.
Generally moving towards people are the most sought after to our society. Job advertisements usually ask a self motivated, forward thinking self-starters. They are the moving towards individuals. Both types have there advantages and disadvantages. You can answer your question, "How am I motivated?" by just observing the dominant of the two factors within yourself. This will lead you to understanding and taking greater control over your own life.


You May Also Enjoy These Related Articles:
Self Motivation
How to Get Motivated Using the Magic of the Red Dot
All of Our Motivational Articles
Return to Home Page from How am I Motivated