Purpose and Intention
Nothing of any note happens without purpose and intention. Truly major things happen when you have a big purpose, and minor occurrences are the result of having just small intentions. If you have little interest in having a beautiful garden, but must keep it tidy for the sake of appearances . . . that is precisely what you get, a garden no one will notice! If you are passionate about your garden and really 'want' to display the best yard in the street . . . watch the difference!
To be driven by a passionate purpose is the mark of great success:
Bill Gates decided that his operating system would be built into every computer manufactured. More than just a purpose, it became his obsession.

Sam Walton's goal, although he was a tough, highly-competitive businessman, was to give the shopping public the best deal. He has succeeded in doing just that! Wal-Mart is now the largest retail chain of stores on the planet. It has in fact become an American institution. Sam built a reputation on caring about his customers . . . he would never be undercut or beaten on price, thus capturing the public's trust and imagination. This established the Wal-Mart stores right at the top of the chain!

Walt Disney wanted to make people happy. What a success that was! A tiny village set amongst the orange groves of Florida transformed into a thriving major city all powered by his imagination and a little guy called Mickey Mouse! Whoever would have thought that a cartoon mouse could change the whole culture of America?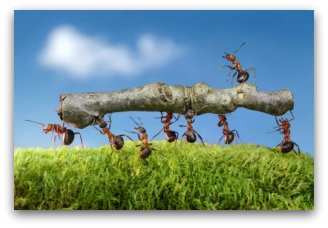 My eldest son, at the age of seventeen, developed an obsession to fly. With little or no money, his passion carried him through to achieve his pilot's license in seventeen months such was his enthusiasm! When asked, "How did you get the money? He just shrugged his shoulders and replied, "I just did what it took!"
Stories of people rising from hopeless poverty to extreme wealth abound, yet often never reach the public's notice. Stories of survival and success over ill-health reveal extreme levels of determination. I recall meeting a couple who were shipwrecked and survived 117 days adrift in a rubber dinghy without a supply of food or water. These extraordinary people clearly decided to survive whatever the odds!
A research chemist and dear friend discovered a chemical compound that failed to achieve the objective of their research. It was abandoned and discarded by the company but Ken, having faith in his work, searched for another use. The result was the creation of the now famous product Head and Shoulders shampoo, a glowing example of successful innovation.
For success in business the focus should be what the customer wants! When asked for the secret of success in business, oil billionaire John Paul Getty replied, "Find a demand and fill it . . . and if you can't find one, create one!"
In the business of personal services the focus could be 'how can I be of greater service?' My wife Sue managed a successful and busy retail outlet, her constant 'hobby-horse' to the staff was, "when you are with a customer, give them 100% of your attention" . . . that alone made her store shine brighter than the rest!
So what is purpose and intention?
The object one strives towards or is driven to . . . and the determination to achieve it.
---
You may also like these articles:
Purpose in your Life





Motivational Stories - read about the success of others who used Purpose and Intention

Self Talk - how to make it happen using your inner voice

Focus and Self Motivation - get yourself ready to succeed

Return to our Homepage