The Ego and Finances
---


Written by Dave Gannaway


The Ego and Finances
Creating Your Right Environment

There is a popular theory that says that 'man is the product of his environment,' and that we live, grow and develop according to our life experiences. I know this to be true because, as a boy, I lived in a depressed area where shortage and lack was prevalent. As I grew up I observed that the lives of those around me all followed the same pattern one generation to the next. The "expectations of life" was survival and just getting by. Each individual's ego was conditioned to support that. Growing up, I wanted more than the "status-quo", and by just thinking a little differently made me the odd-one – the little guy with big ideas.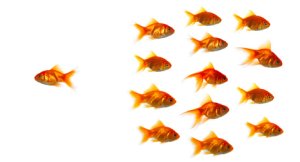 The majority of the community held down jobs doing menial work. The few at the top end, and minority of those employed, had trade skills, and were plumbers, carpenters etc. Of course a percentage never had jobs at all. Almost none of those in this community owned their own business. They were all wonderful, salt-of-the-earth, honest folk but all living just one notch above the poverty line. They all fell into the same pattern of life … all broke, all without any real prospects of success. Because they knew no difference, that was the status-quo and everyone was happy. The ego of each and every one tuned to simply getting-by and making it from one payday to the next. That was the group consciousness, the group ego status. Anyone who didn't fit that slot (like me) was different, a daydreamer, a little odd, and needed to get his feet back on the ground and get back in line!
I recall telling my Dad, "I'm going to start my own business!" He thought I had taken leave of my senses and that was not for the 'likes of us'! I didn't understand back then that his ego was conditioned by the greater lack and poverty of his parents, and their parents before them. They were stuck, generation after generation all locked into their limited observations of 'life'. And of course that was precisely what was manifesting in their experience, more and more of what they expected, more and more hardship.
I am so grateful for those insights; it now illustrates clearly just how powerful and effective the individual's ego is. That it is working perfectly right now manifesting in our lives exactly what our ego acknowledges to be true. The only problem is that what the ego is condition to see is not what I want in my life.
At that point, I learned that if I wanted change in my life – if I wanted to achieve things beyond the world of my past and its conditioning, then I had to learn to deal and change the limiting programming of the ego. It was this powerful regulator within me. I wanted to learn how to change its programming from the old status-quo of my past, and install a carefully structured new program that reflected where I intended my life to be and not where it came from.
I recall that many years ago, the authorities in England created a new housing program to clear slum areas devastated by WW2 and relocate the families to new, modern homes. The idea was to demonstrate that when you change a community's environment you change the people in it! Wrong! Within less than five years, the community had transformed a new environment into a new slum area complete with graffiti and garbage all over the place! They still had slums but now the slums included better housing!
This huge failure illustrated clearly that change must come from within the individual. This is true for every area of personal growth development. When I looked about me, back then I knew very clearly that 'this is not where I belong.' As much as I loved all my friends and family there I resolved it was not for me. And I am sure that just having that intention was the motivation that engaged my subconscious to start searching for ways out!
It was not something that I was going to try and resolved, no sir, I absolutely was NOT going to be there. I knew nothing of personal growth and even less about therapy. I had no malice toward anyone else just that it was not going to be the soil from which my future was going to grow. I was not going to be a modern clone of that environment.
For me the key is intent. When someone truly intends to make a change, then something happens deep inside. The activating part of who we are (beyond awareness), the subconscious mind (upon intent), shifts into another gear and seems to access a whole new range of recourses that was not previously available. It is from here that the magic of success and financial abundance take root. Many of the great successes of industry and commerce naturally had these qualities and used them– unaware that they possessed qualities many lacked. Others who became aware of these qualities, but did not possess them, had to recourse to personal growth therapies to intone themselves with the mystical qualities.



You May Also Enjoy These Related Articles:
The Ego and Me
What is Self Talk
Identifying Resistance to Change
All of Our Motivational Articles
Return to Home Page from The Ego and Finances